Dec 9, 2020
Todd O'Neal is a sweet potato farmer in Louisiana and his enthusiasm for the crop is electric. He talks to us about how sweet potatoes were considered something for poor people, as small farmers always had a patch to feed their family. But recently, the crop has been better understood as flavorful, nutritious and versatile. Todd talks to us for our holiday foods series about the ins and outs of growing them as well as give us his tip on the best way to enjoy sweet potatoes.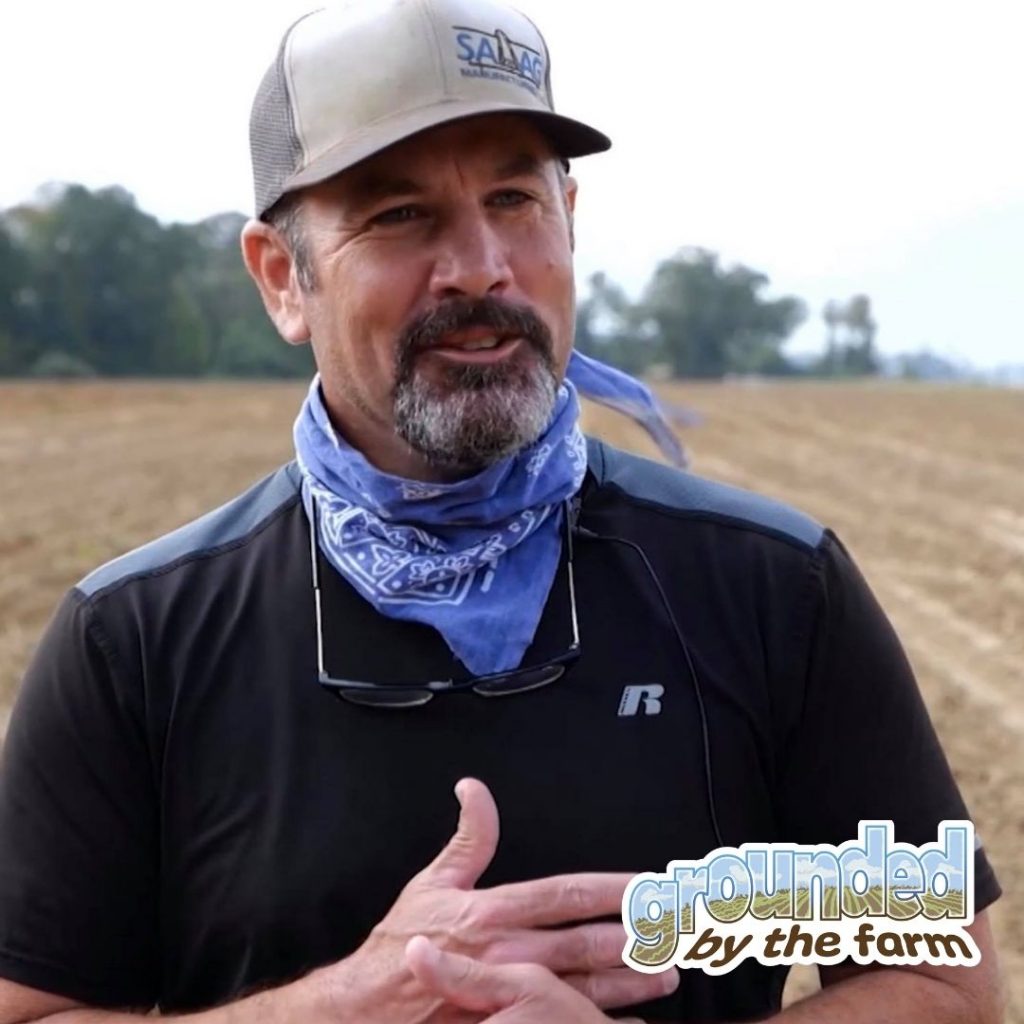 Todd is with Black Gold Farms, you can connect with them on online:
Watch Todd talk growing sweet potatoes this season with the team at This Week in Louisiana Agriculture.
Sweet Potatoes are now grown & enjoyed 12 months out of the year! It's no longer just a holiday thing!
Did you know that the "regular potatoes" you think of are often called "white potatoes" or "Irish Potatoes?"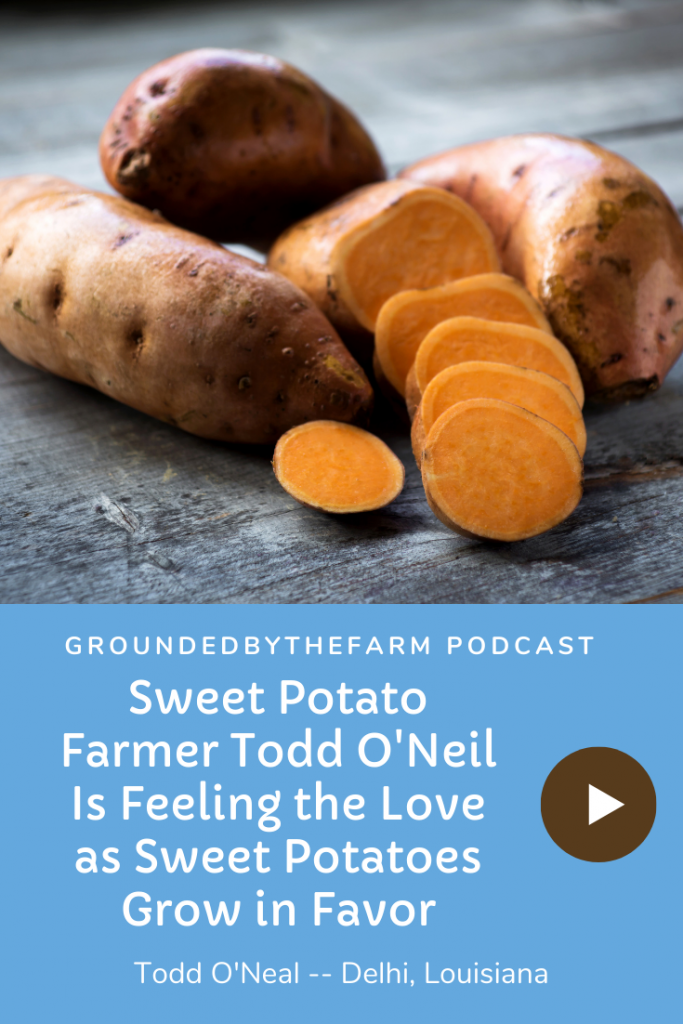 The Curing Process in Sweet potatoes: Regular/White/Irish Potatoes are brought inside to an environment to cool. Sweet potatoes on the other hand are heated up to help break down the sugars inside the sweet potato which makes it "sweet".
The biggest time of the year for sweet potato farmers? Thanksgiving! Holidays are big in general. Thanksgiving, Christmas and Easter are all big times for sweet potatoes. But they have been gaining ground and are now enjoyed year round!
Why are sweet potatoes so popular? At one time every farmer grew sweet potatoes but there was a steady decline as farming numbers dwindled. At one time, sweet potatoes were somehow aligned with people "being poor" and so they fell off the general chart of attention span. In just the last decade, sweet potatoes have gained attention momentum, being associated with a general focus on health, being offered as solutions to many people with a variety of dietary needs including those who are diabetic and take take on the starches that are provided in the Regular/White/Irish Potato.They are high in Vitamin A & Beta Carotene.
It's in the bag, man: When COVID-19 began gripping the US, there was a swell in sales of sweet potatoes (and all general foods that could be purchased/acquired at grocery stores). Todd also noticed something strange in a photo of a grocery store's produce area - the only things left were "loose apples" which helped to craft a new plan to help the sale of sweet potatoes. It was clear that people were grabbing things in a BAG, because people were paying attention to how many surfaces were touched by how many people.
There's only ONE kind of sweet potato, right? There are many varieties of sweet potatoes - The Bayou Belle: It's not the prettiest potato but makes for great sweet potato fries! The Orleans sweet potato is the pretty one for fresh market handsome go to processors and there is a lesser known type - The Beauregard - all of which were developed and named - clearly - from their development at Louisiana State's Sweet Potato Research Station.
The Count Matters - Which state tops sweet potato production? Wondering who is on top of the "sweet potatoes heap? North Carolina currently grows the most. Mississippi is in the second slot. California comes in third, and Louisiana takes the number 4 slot.
Lookin' Mighty Fine (For a sweet potato...): Todd is SURE, (not because he lives and has a sweet potato farm there or anything) that Louisiana Potatoes LOOK the best of all available sweet potatoes.
What makes these so great? Silt loam soils!
Silt is a solid, dust-like sediment that water, ice, and wind transport and deposit. Silt is made up of rock and mineral particles that are larger than clay but smaller ..
Loam is a special type of soil that has been formulated to contain a mixture of sand, silt and clay. Sandy loam soil is a very desirable medium that is used by farmers, gardeners, landscapers and property owners because of its very beneficial qualities.
You can learn more about the passion for soil in this conversation with Mr. Ray Young that's mentioned.
Did You Know: A sweet potato will cure in 4-5 days in general, but depends a bit on time of year, temperature and humidity.
Some Like It Hot - But Not Wet: 85% humidity and nice cool temperatures (55 degrees or so) is best to put sweet potatoes "to sleep" to help prevent CO2 levels form climbing too high that would cause the sweet potatoes to rot. They also like dry environments like Shay told us onions do...
Smart Buildings Help Feed People? Huh? Sweet potato farmers often use buildings that detect how much CO2 is building up to help prevent unfavorable conditions!
The Root of the Matter: A sweet potato is a Root. It's part of the Morning glory family - it's a WEED! It has the same type of flowers you may have seen in a vining garden.
SORRY! You're Going to Have to Listen to This Episode to Find Out... The process of growing and cultivating sweet potatoes is incredibly detailed! Be sure to listen to this episode of Grounded By The Farm to understand all of it! Thanks, Todd!
Big Machines - Beautiful sweet potatoes - ACTION! Interested in seeing ALL of the sweet potato farming Machines in action? "Dig It!" ;)
Planting sweet potatoes takes 40-50 days! Harvesting is probably 75 days of the year!
Ready to learn more about "H2A Workers"? Be sure to check out The Grounded By the Farm episode on Peppers for more details! https://groundedbythefarm.com/how-americans-love-of-spicy-food-gave-this-farm-room-to-grow/
Counting Workers to Help Make It COUNT! Did you know that the Black Gold Farm location that Todd supervises, has almost 300 employees? Feeding people requires hard work and they truly enjoy their effort knowing that it will put food on the plates of many people!
You Say "Yam" But They Say "Sweet Potato" -- What's the Story? Are Yams and sweet potatoes the SAME THING? As much as we want you to read and then know the answer, you're going to have to listen to this episode of Grounded By The Farm with Todd O'Neal from Black Gold sweet potato farm to find out! Suffice it to say, Louisiana is marketing smart!
Finding sweet potatoes near you! The market for sweet potatoes has grown sometimes due to food services and restaurants.
Do you know what a QSR is? It's an acronym that in this case stands for Quick Serve Restaurant!
Do you know what an LTO is? It's an acronym that in this case stands for Limited Time Offer!
What does YOUR favorite "QSR" offer as an "LTO?" Tell us PDQ, or you'll be SOL, and end up doing KP and if you're in the we'll surely all end up DOA!
Curious about ONIONS? Be sure to check out the episode of Grounded By The Farm featuring onion farmer that's so good it'll make you CRY! https://groundedbythefarm.com/growing-onions/
Black Gold offers value added & bulk sweet potatoes! There are so many innovations that go beyond individual sweet potatoes or bags, doing poly-wrapped and more. Fresh at the grocery really went up when more people stayed at home, but the company also offers them in bulk of 40 pounds at their Delhi, Louisiana locations.
Todd's favorite way to eat a sweet potato? First it gets peeled. Then you warm up a seasoned cast iron skillet. Slice the sweet potato length-wise. Toss in half a stick of butter and brown it up on both sides - sprinkle a little salt on it and you're there! He's had sweet potato biscuits, sweet potato cakes and more! What's YOUR favorite kind of sweet potato preparation? Contact us via The Grounded By The Farm's social media and tell us what yours is!
The Struggle is REAL: Sweet potatoes WITH or WITHOUT - PECANS? That's a controversy
Storing them at home — keep them in a cool, dark place. Heat is the enemy that causes it to put sprouts on and it changes the texture inside.
Stick It - In The Window! Even Todd grows sweet potatoes in his window sill! Have you tried? He gives the instructions on how to do it inside this episode! Listen, Learn, Grow and EAT!
We Need to Hear from You!
What did YOU find interesting about this episode of Grounded by The Farm? What would you like us to be sure we include in the second season of the podcast? Tell Janice what you thought about it now and we just may use your feedback on a future episode